I am having a bit of a problem with Preview and Drilldown.
The situation that we are in is that we have a solution that uses Crystal Report for reporting. We do want to phase that out and have been rebuilding few reports with LL. We however would like to continue to build and produce the report data on our server and send streamed preview files to the client. We do not want to store report "projects" on each client and we also like to minimize the footprint on each client.
The first attempt was to display reports on the client using the built in WPF control. That was OK until we found that Drilldown is not possible. Having searched for a solution for that I ended up noticing that this was not possible at the moment (have lost the link to the forum answer).
Then we looked into viewing the report in the Standalone viewer and got help in making the preview "drillable" - as suggested I have marked the report main property as "Embed Drilldown Report" and preview generated on the client makes the drilldown possible.
BUT when generating the preview file in our server we get an Exception. See below. Is it possible to generate the preview file in the server without any user interaction?
As far as I can see we have not set any property to invoke user actions, see code snippets below.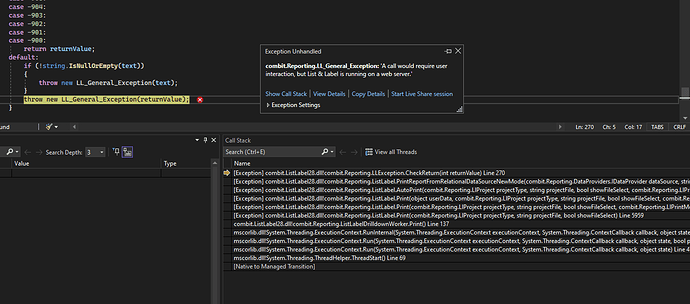 string reportFilePath = _baseDirectory + @"bin\LLReports\" + repInfo.LLReportFile;
            using (ListLabel LL = new ListLabel())
            {
                LL.LicensingInfo = "xxxxxxxxxxxxxxxxxxx";
                LL.Variables.AddFromObject("info", reportModel.Info);
                LL.Variables.AddFromObject("employer", reportModel.Employer);
                LL.Variables.AddFromDictionary("parameters", reportModel.ReportParameters);
                //Allows the List and Label preview file to export into different data types
                LL.Core.LlSetOptionString(LlOptionString.EmbeddedExportFormats, "PDF;XLS;DOCX");
                LL.DataSource = new ObjectDataProvider(reportModel);
#if DEBUG
                LL.Debug = LlDebug.Enabled | LlDebug.LogToFile;
#endif
                var exportConfiguration = new ExportConfiguration(exportTarget, stream, reportFilePath);
                exportConfiguration.ExportOptions.Add(LlExportOption.DocxFloatingTableMode, "0");
                LL.Export(exportConfiguration);
                return stream;
            }

Best regards,
Árni