Hello I am using L&L26 and want to prefix Column headers in a certain range i.e. the year 2020 - 2029.
This startyear is a report variable, so the range may change.
Even if there is no data I want the Crosstab Column to be present.
I tried using the Automatic fill-up, but it only shows 2020 in the first column header.
How can I instruct the Crosstab to show an increasing year from the range on every column header?
Below some settings and results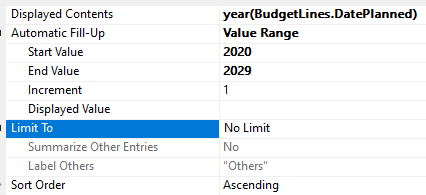 result


Best regards,
Ad Rabenort